WELCOME ......................................................................................................
Important projects require a high amount of competence and experience. For over 30 years, IMP Management has been a successful service partner in the field of planning and managing complex commercial spaces (conversion and redesign), from the stage of Needs assessment through to cost estimation and deadline implementation. Competence on a solid basis - for space management and office space planning.
IMP is our German acronym and it represents the three areas in which our modern enterprise has been performing with success since 1981. Indeed, we have been active in numerous projects, above all in large-scale industry.
i for IMMOBILIEN -> real estate
m for MARKETING -> marketing
p for PLANUNG -> planning
Immobilien -> Real Estate is the central axis of our services. We always deal with real estate requirements on a business scale. For example, we offer help in relocation and expansion planning, location analyses, space management or extensive project control. IMP Management sometimes finds itself physically close to the properties it works with: for example, when carrying out inventories, real estate value assessments and sometimes even at real estate negotiations and sales (also amongst our additional offered services).
Marketing -> Marketing becomes essential when going beyond mere technical real estate and space management. Coherent office space planning is one thing; achieving a convincing statement in room design is quite another. Modifying spaces often goes hand in hand with a corresponding transformation, or with a perceptible adjustment of, Corporate Identity or Corporate Design. This is where we come in.
Planung -> Planning is a central part of our business. We set out with inventories and location analyses, head through to floor space layout and business environment layout and arrive at room-specific design (office space planning), creative project development and project management.
In this way, we have made a name for ourselves in the course of the last 30 years in the fields of real estate value assessment, space management, office space planning and in other areas of planning, always contributing the pertinent marketing solutions for each case. Efficiency, precision and creativity have been and remain the guiding lines of our business.
Ensuring the highest degree of quality is, above all, our leading ambition. Indeed, we can confirm this fact thanks to our ISO 9001:2000 Certificate for "Planning of office spaces and manufacturing plants, location analyses, space management, interior design, furnishing and moving management, construction management and on-site installation supervision."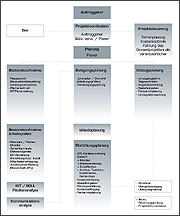 Overview Project
Development
Click for PDF download